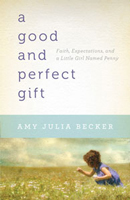 Last week I shared Part 1 of an excerpt from Amy Julia Becker's new memoir A Good and Perfect Gift. Below is the compelling conclusion to that excerpt. I hope it will stir you as much as it did me.
Two quick items before I leave you with her story. Amy Julia will be guest blogging on the New York Times' parenting blog, Motherlode, some time later this week. Keep an eye out for her!
Also, you may or may not have heard about an emerging trend of lawsuits in which parents cite a "wrongful birth" or "wrongful life." In these cases, parents of children with disabilities sue their doctors for not informing them of their babies' health problems, claiming that they would have aborted their children had they been properly informed. These lawsuits, quite honestly, make my stomach turn, however Amy Julia recently wrote a response that was a check on my spirit. Her words were so filled with Christlike grace and love that I was instantly humbled. It is a must read.
Now with out further ado, the conclusion to an excerpt from the beautiful book, A Good and Perfect Gift:
___________________
I didn't have time to try to articulate my thoughts. Peter wheeled Penny back in just as Mom and Dad walked through the door. She was fast asleep and swaddled tight. They crowded around. Her skin was smooth now, with a hint of olive underneath her pink cheeks. Peter picked her up and handed her to Dad. "Here you go, Grandpa."
On the surface, we were introducing the firstborn grandchild to her grandfather. Big smiles. Oohs and aahs about how cute she was. But there was an undercurrent of hesitation. How do we say, Congratulations and I'm sorry? How do we celebrate and grieve at the same moment?
Dad lowered himself into a chair with Penny. I couldn't remember seeing him with an infant before. He held his body stiffly, shoulders hunched, using only his arms to hold her. He looked the same as ever—khakis, loafers, a buttoned-down shirt with a frayed collar, a blue wool sweater with a few stains. But I had to wonder if he would become someone different, now that he was a grandfather. Now that Penny was his granddaughter. She slept without stirring, and he smiled.
A new nurse walked in and started talking to Mom. "Just so you know, Penny's bilirubin level is still higher than we want. That's why she looks a little jaundiced. But as long as it stays where it is, we're in good shape."
Mom interrupted, "Um, Penny's mom is right here." She pointed to me.
"Oh!" the nurse said. "I'm sorry. You look so comfortable for a woman who just gave birth. I thought you were one of the sisters. I heard there were a lot of them."
"Two more on the way," I said.
"How's your pain?" the nurse asked.
Labor and delivery had been a lot easier than I had expected. "I've been taking the Motrin and using ice packs. It's really not that bad."
Kate said, "She comes from a long line of stoic New England women."
The nurse gave a short laugh. "All right. Well, call if you need me."
Soon enough, we were sharing memories of the past few days, as if they had happened a long time ago. Mom talked again about how she had known something was wrong, how Penny had looked so floppy on the examining table. Kate mentioned her tears. Dad said he hadn't been able to sleep on Friday night. "I've got a cold sore," he noted, pointing to a bump on his lip.
I felt a strange urge to apologize, although I knew that none of them were looking for consolation, especially not from me. With Penny in the room, beautiful, peaceful, there was also a sense that it had been a false alarm, that all the fear and stress and sadness was for nothing.
Kate went over to Dad and said, "All right, Grandpa, hand her over." She put her face close to Penny and bumped noses. After she sat down, she said, "Did any of you hear them on Friday night in the room next door?"
I had a vague recollection of shouts of praise through the wall.
"Yeah," Peter said. "They had a baby girl a few hours after Penny."
"But did you hear what they said?" Kate asked. "It was right after we'd gotten back from dinner. I walked into this room to see Age crying, and I knew there was something wrong. And just a few minutes after you told us, there was all this happy shouting next door. I heard someone say, 'She's perfect! She's perfect!' over and over. It was so weird."
I hadn't heard those exclamations. I looked at Penny in Kate's arms. All the medical terminology implied anything but perfection. Birth defect. Chromosomal abnormality.
Kate bumped Penny's nose with her own again and gave her a kiss.
"What I want to figure out is whether Down syndrome is a mistake," I said. "I know that scientists and doctors would say that it is." I gestured toward the papers on the table. "But how do I think about it in terms of God? Is it a manifestation of sin in the world? Is Penny less perfect than that little girl who was born next door?"
The room stayed silent. I thought back to the moment I first felt Penny kick. We were in Rome, living in a dorm room. Peter was there on a Fulbright scholarship with twenty other high school teachers. At least once each night I got out of our bed and walked across the linoleum floor to the communal bathroom. One of those nights, in mid-July, I couldn't fall back to sleep. And that's when I first felt her move. A flutter below my belly button. And then another. And three more. Hello, little one.
How could she be a mistake?
I looked up when Mom spoke, in her gentle, level voice. "The only evidence of sin that I see in Penny's birth is in how we respond to her."
It was as if I had been looking through a kaleidoscope and it turned a notch. All the same pieces and parts, the same colors even, but a totally new pattern. A new way of seeing.
For the first time in months, I remembered those words in the car before Penny was born. But if you had waited, then you wouldn't have had this child.
This child.