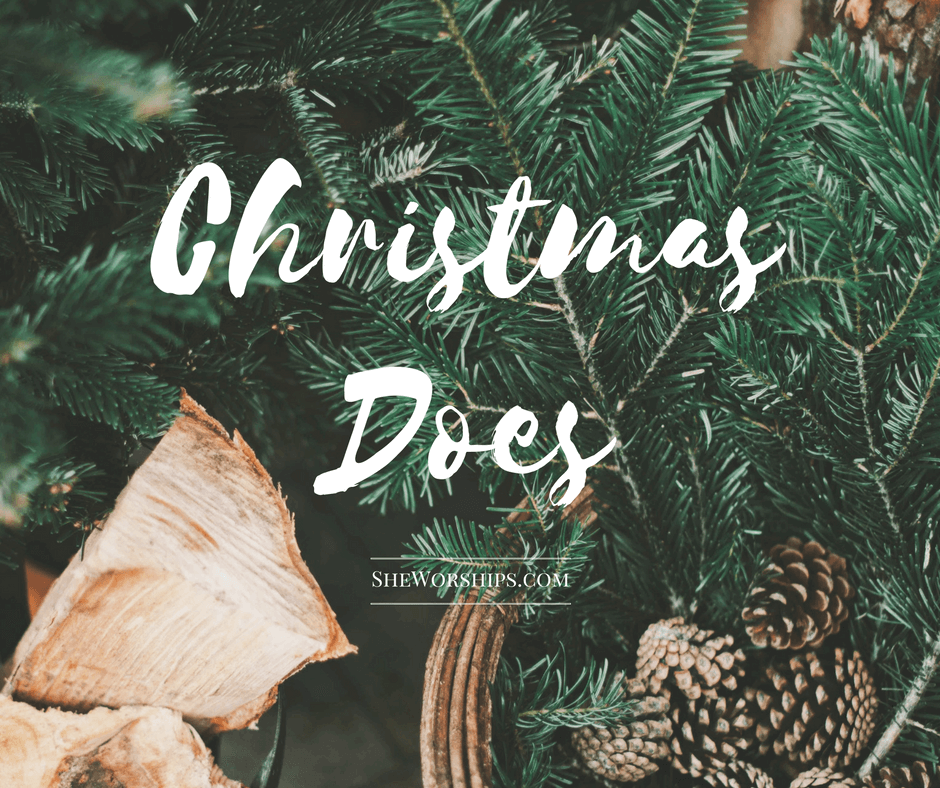 I hate to admit this, but in the last month I have dived deep into Hallmark Christmas movies. It's pretty bad, y'all. I have probably watched each one twice, and the movies are not good. Some of them are better than others, but at some point each week I sit on my couch thinking, "Why am I watching this?" And then, "Why can't I STOP watching this?"
I think part of the appeal is the escape. There is so much darkness in the world right now, so these movies with their guaranteed happy endings are a welcome retreat. When I flip on the tv and the opening music swells, I know that as sure as the sun will rise, the attractive couple will end up together.
Having now watched a gazillion of these movies, one of the most common plot points is a main character who hates Christmas. His or her dislike is usually tied to some bad experience in the past–Christmas was when they got dumped, or their dad left, or their mother died–and the movie follows their reawakening to the magic of the Christmas spirit. This is like, 75% of the movies.
Every time a new movie introduces this storyline, I groan at the predictability, because it seems kind of silly. I mean, what's with all these people who hate Christmas? Why is this such a heavily recycled theme?
But the more I thought about it, the more I realized the Hallmark people are on to something. The truth is, a lot of people don't like Christmas. Or at least, they don't enjoy Christmastime, and for the same reasons as these characters. For many people, Christmas kicks up grief and highlights loss. Christmas is very often a season to survive, not to enjoy, and that's not a Hallmark invention.
For many of us, there is a gap between how Christmas is "supposed to feel" and how it actually feels. Maybe you're grieving, or maybe your schedule is simply chaotic and you feel overwhelmed, but it's easy to feel disconnected from all the sparkle and joy. At some time or another, most of us feel out of sync with it.
I have felt that disconnect too, but this year the Holy Spirit has been challenging me with this reminder: Christmas was never meant to be about feelings. To understand what I mean, look at these lyrics from the song "O Come, O Come Emmanuel," which date back to the early 1700's. Pay close attention to how this carol unfolds:
O come, O come, Emmanuel
And ransom captive Israel
That mourns in lonely exile here
Until the Son of God appear
Rejoice! Rejoice! Emmanuel
Shall come to thee, O Israel.
This song is a bit of a dirge. It begins dark, yearning, aching, trapped by longing and grief. Israel mourns in exile, wondering if the Messiah will ever come.
And then, a shift. Before any resolution, before any answer from God, the song turns. "Rejoice! Rejoice!" it exclaims. We are not rescued yet, but "Emmanuel SHALL COME to thee, O Israel."
This rejoicing is not sentimental. It's an act of defiant hope.
The first time I noticed this, I thought it was so strange. The song bounces between despair and hope, longing and praise. This is not how we think of Christmas.
But we should. Because from day one, the Christmas story was about something even deeper than emotion. Take Mary. When Mary receives the news of her pregnancy, she doesn't beg God for another option, or succumb to her greatest fears. Instead, this teenager with a heck of a lot to lose, rejoices:
"My soul glorifies the Lord
and my spirit rejoices in God my Savior,
for he has been mindful
    of the humble state of his servant.
From now on all generations will call me blessed,
for the Mighty One has done great things for me—
    holy is his name.
His mercy extends to those who fear him,
    from generation to generation.
He has performed mighty deeds with his arm…"
(Luke 1:46-51).
At first glance, Mary seems delighted. A woman of perfect faith. Perfect obedience. But this passage isn't entirely what it seems. Mary's Song in Luke 1:46-55 echoes Hannah's Song in 1 Samuel 2, meaning Mary didn't come up with these words spontaneously. And she wasn't necessarily happy to hear this news. Most likely, she was terrified. But these words were already written on her heart. She was a girl who knew God's Word and His promises. Scripture was so deep inside of her that she could summon the truths at will.
In other words, Mary didn't praise God because she was excited and unafraid. She praised God because she knew what was true, and she was choosing to hope in it.
What this tells us is that Christmas is not about feelings. It's not about nostalgia or parties or "all the feels". Advent and Christmas are about proclaiming what we know is true. This is a season when we praise God and thank God for what He has done and what He will do, not because it's how we feel, but because it's true.
Looking at it from a wider angle, this is why the Christian calendar exists: it takes us by the hand, and walks us through the life of faith, teaching us its shape and its direction, even when our hearts aren't in it. Even when we doubt God and our own salvation, the church intercedes on our behalf. Its people and its rhythms proclaim the truth of the gospel, even when we don't feel it, or don't feel like doing it.
Christmas, in a sense, works on us. It teaches us. It proclaims something to us.
All of that to say, your feelings DO belong. Whatever you are feeling, there is more than enough room for it in the Christmas season, precisely because this season is about so much more than feelings. The Christmas season is about what God has done and will do again: Christ will return. The waiting will end. Suffering will cease. Joy will have the final word. And hope will not put us to shame. Sing these truths in the days ahead, not because you feel them, but because one day, God will fulfill them, "just as He promised" (Luke 1:55).
Merry Christmas, my friends.
Sharon
Sharon
Sharon