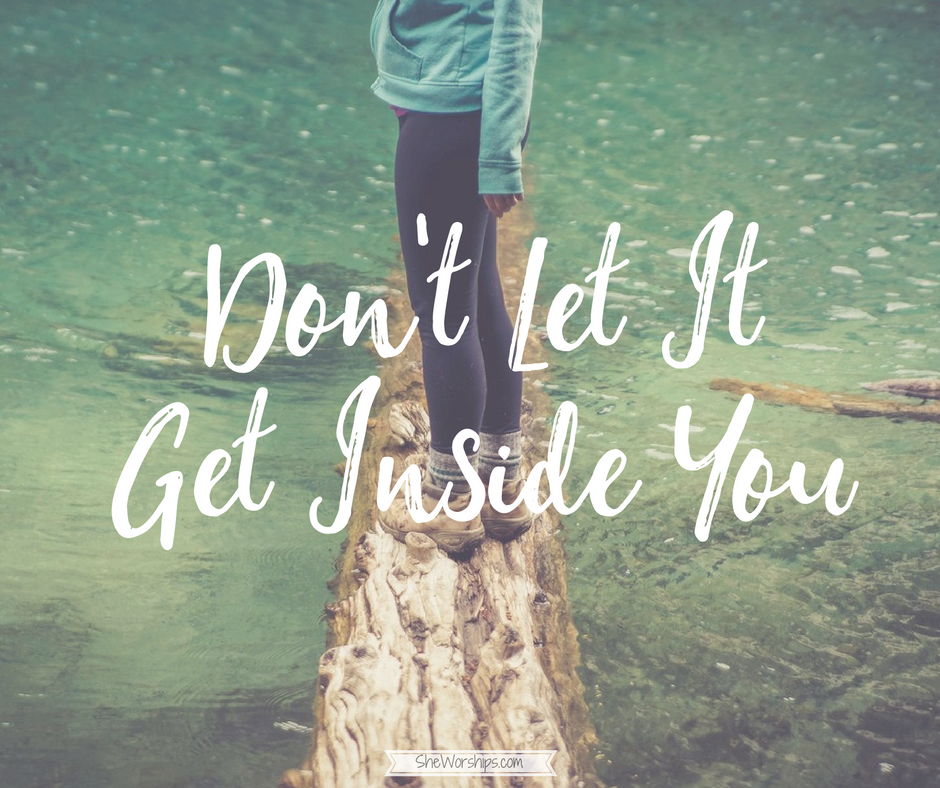 I'm taking a break this week from my series on love, to tell you a short story.
A number of years ago, Ike and I endured a hard season of our marriage. It had nothing to do with our relationship with one another, but came from an outside force. There was a person in our lives who was toxic, and they turned our world into a living nightmare. I had never met anyone quite like this person, who was wealthy but exceedingly ungenerous. They spoke often of their successes, bragged about their extravagances, told grandiose, implausible stories, took advantage of the people who worked for them (sometimes refusing to pay them), and used degrading language about women. Their behavior became so bad that my husband eventually confronted them outright.
(And in case this description sounds strangely like a current figure in the news, believe me, this similarity is not lost on us!)
We lived in close proximity to this person, and it was awful. When I was around them, I felt uncomfortable and unsafe. I wondered what they said about me when I wasn't around, and I avoided having contact if possible. Over time, my discomfort grew into anger, and my anger grew into hate.
It wasn't long before my heart spilled into my actions. I insulted this person behind their backs. I relished the opportunity to tell others about their depravity. When I was alone, I indulged my rage with a mental catalogue of disdain. I became hard and bitter and mean, and I justified my actions because I thought they deserved it. And maybe they did.
But one day, I had a wake-up call. It was the day I finally gave words to my feelings. I admitted that I hated this person, and the ugliness of that truth hit me hard. I knew that hate was never from God, because Scripture warns us, without qualification, not to hate (1 John 4:20). In that moment, I understand why with a whole new clarity.
The hate had gotten inside me, and it was changing me.
I share this story, because the current cultural climate is so thick with anger. People are mad, understandably so, but the tenor of it sounds so familiar. It's the kind of rage that got inside me once, and I think it's trying again.
This time around, I'm not just seeing hate, but also cynicism. Every time I go online, I roll my eyes, release long-suffering sighs, and entertain mean-hearted thoughts. This election season has gotten inside me, and it has made me uglier than before.
I imagine a lot of you have experienced this too, and it's so important to confess it. Otherwise, we will begin to justify all sorts of sins. We will make excuses for the tiny jabs and loaded comments we launch at one another. We'll brush off our own harsh words on the grounds "they probably deserve it," or, "I'm only stating what's true."
I think that's where we are at right now–both in public and in private–and we need to resist it. We need to keep the hate outside us, and there are three different ways we can do this, but here is how we will not: by sticking our heads in the sand. We can rest, but we cannot withdraw or tune out, because we follow a Savior who looked straight in the eyes of darkness and did not flinch or back away. He saw it for what it was so that he could diagnose the sickness and heal it, and our call is very much the same. We have to see the world for what it is, without letting it embitter us, and there are three key ways we can do this:
1. Believe what God says about people, and believe what God says about Himself
I've heard a lot of talk about hate and fear–and we do need to resist them–but another vice has crept quietly into our hearts, and that is cynicism. It's just as prevalent as hate and fear, and just as personally toxic.
Cynicism emerges out of that gap between expectations and reality; between who we are called to be, versus who we actually are. We become disappointed and disillusioned when people fail, and that evolves into bitterness and a prickly shell.
For those of us prone to cynicism, Jesus' life is a chastening reminder. A man who had more reason than anyone else to be cynical, was not. I suspect it's because, in his eyes, there was no gap between his expectations of people, and the reality of them. He saw people for who they really were, which is exactly why he came. That's not to say he never felt hurt or betrayed, but he also knew that was the reason for his work.
When it comes to our humanity, Scripture is clear. We are broken, and we choose brokenness, again and again. We all do, which is why we need Jesus. We can be hurt and angry when others disappoint us, but we should not be surprised. That brokenness is exactly why Jesus came. That's why, as his followers, we must reject cynicism for hope. People will disappoint us, but God's justice and grace account for it all.
2. Focus on the good.
Lately I have been swinging between disappointment and hope, depending on the hour and the day. Some leaders have disappointed me, while others have reminded me of my call. For every Christian leader denying the power of the gospel, there are countless others speaking up for truth. There are Christians risking popularity and income, in order to do what is right, and their boldness invigorates my faith.
In Philippians 4:8, Paul writes this:
"Finally, brothers and sisters, whatever is true, whatever is noble, whatever is right, whatever is pure, whatever is lovely, whatever is admirable–if anything is excellent or praiseworthy–think about such things."
Whatever we look for is what we will see, so focus on the good. Seek out the Christians who are standing for integrity, and celebrate them. It's amazing how such a simple shift can protect our hearts.
3. Do good. 
In Romas 12:21 Paul exhorts us, "Do not be overcome by evil, but overcome evil with good." Last night I sat in my living room scanning through Twitter and feeling increasingly sick. So, I decided to turn my energy elsewhere. I hopped on over to the Preemptive Love Coalition and signed up to support their work in Syria. (They are doing amazing stuff, by the way. PLEASE check them out!)
One of my favorite things about God is that He designed a world in which we receive healing us we work to heal it. God didn't create us to sit at our computers typing clever comebacks on Facebook. He created us to spread His love across the planet, and when we do that, it's like medicine for our souls.

***
Proverbs 4:23 says, "Above all else, guard your heart, for everything you do flows from it." This verse is usually cited in dating, but its application is so much broader. We need to guard our hearts against anything that would poison it, whether it's hate, fear, cynicism, or self-righteousness. Everything we let in, will eventually flow back out of us, so don't let in the darkness. Look at it. See it. Be clear-eyed about it. But don't let it get inside you. Don't let it extinguish your light, as Paul challenges us in Philippians 2:15,
"Be blameless and innocent, children of God without blemish in the midst of a crooked and twisted generation, among whom you shine as lights in the world."
Sharon
Sharon
Sharon