One of my favorite passages in all of Scripture is not one you would expect. It's not about God lifting us up on eagles wings, or how we can do all things through Christ. It's not very flashy. It's nobody's "life verse."
But it is incredibly important for each of us.
It's 1 Corinthians 12:14-26.
This passage is famous for its imagery. This is the passage in which Paul compares the church to a human body. The church, like the body, is composed of diverse parts that play diverse roles. Although some parts seem more important than others–such as the head or the leg–every part has an important role to play.
Even the weakest or most humble parts, they matter. Without them, the body would be crippled.
Now, I'm gonna level with you–I don't think most people get what Paul was saying. Not really. And I'll be the first to admit I struggle with it. If I really grasped what Paul was saying, I wouldn't be so tempted to envy other people's gifts, or to model myself after people who are more successful.
If I truly grasped the power of 1 Corinthians 12, I would focus solely on becoming who God created me to be.
Granted, some parts of the body are more visible than others. Paul also implies that some gifts are stronger or weaker than others. For instance, I think we can all agree that Andy Stanley is a better teacher than I'll ever be.
But that doesn't change the fact that God created me for a very specific purpose that no other person can fill.
And if I am not filling that purpose, then the Body of Christ will hobble.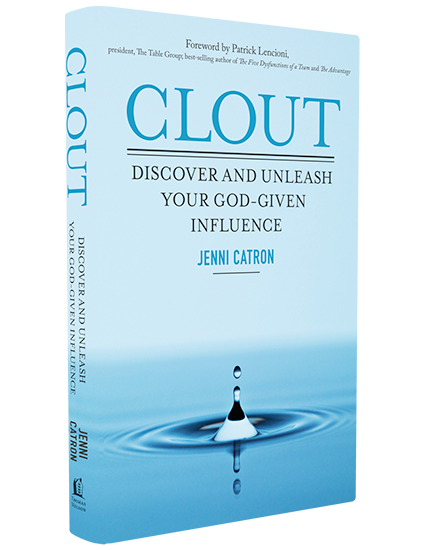 That is one of the central arguments of Jenni Catron's brand new book Clout: Discover and Unleash Your God-given Influence. Jenni defines "clout" as "the influence that God has given to you and to no one else." Whether you lead a church, run a business, or stay home raising kids, God has given you a particular kind of influence that He designed just for you.
The question is, are you using it?
In this book, Jenni looks at the 7 "clout killers" that sabotage our influence–fear, comparison, jealousy, scarcity, insecurity, pride, and control. Then she shares the 4 "clout cultivators" that can help us maximize our influence: discovering your identity, developing your confidence, defining your mission, and determining your passion.
There are a couple things that I really appreciate about this book.
The first is Jenni's transparency. I first met Jenni a few years ago, and she is one of those people who exudes leadership. She originally worked in Nashville's music industry, but left the corporate world to become the Executive Director of Cross Point Church, where she's pretty much been rocking it for the last 9 years.
Jenni is a natural leader who seems to have it all together. So you can imagine my surprise when she wrote that, of all the clout killers she struggles with, insecurity is the greatest. I was so relieved to read her words, because insecurity is my biggest clout killer as well. It's something I wrestle with all the time, and this book helped me to think through it.
Second, this isn't your typical leadership book. Jenni hones in on the important element of influence, which is something we all have. This isn't just a book for pastors and teachers, but for every member of the Body of Christ. Wherever God has called you to exercise influence, this book speaks into it. And not simply in a how-to kind of way, but by examining the spiritual core of influence, and the sins that trip us up.
For those reasons and many more, I am so pleased to be hosting a BOOK GIVEAWAY for Clout! If you'd like a free copy of this book, you can enter the drawing by answering this question in the comments section below:
Where do you feel called to exercise your influence?
Even if I wasn't giving away books, this is an excellent question to ask yourself. How often does life carry you away like a ship in a storm, without any time to reflect on where you're going or what you're called to do?
If you're like me, it's so easy to get distracted from this core question, so I hope you'll pause to consider it. And I also hope you'll check out this book – I am so grateful to Jenni for writing it!
I'll be drawing the winners on Friday, January, 24th.
Sharon
Sharon
Sharon