It's been a few weeks since I last sat down to post, and my life has changed a lot since then. Three weeks ago I was surrounded by boxes and a nearly empty house. I was in Illinois. The summer was mild. I was saying a lot of goodbyes.
Today, I sit on the porch of my parents' home looking out on a row of magnolia trees. A layered chorus of cicadas chirps in the distance, and a warm breeze washes through my hair. Within an hour it will be too hot and humid for me to sit outside, because it's summer in North Carolina.
And I am home.
Ever since we moved to Illinois 4 years ago I have dreamed of the day we would return to North Carolina. And it's been every bit as sweet as I imagined. We spent the 4th of July with Ike's family eating hotdogs, fried squash, baked beans, coleslaw, and sweat tea. We sat under the shade of a tree in my mother-in-law's yard, and it was perfect.
Yesterday I took Isaac to see my grandmother and aunt. We sat around the table catching up on life while Isaac ate fresh watermelon and played with the same, decades-old toys I enjoyed as a little girl. It was magical.
Being back in North Carolina has reminded me how much memory is connected to sense. The sights, smells, sounds, and tastes of North Carolina are, for me, connected to a thousand wonderful memories. That steady rush of happy recollections has given me a nearly constant feeling of peace, rootedness, and joy.
It's such a sweet moment when you finally attain the desire of your heart. I've been yearning to be home for years, and now I am.
But. As Ike and I prepared to return home, we realized the importance of guarding our expectations. Like any other worldly desire, no matter how innocent or good, it can never satisfy truly and deeply. It cannot withstand the weight of our souls.
I'm reminded of the story of Jacob and Rachel in Genesis 29. Jacob waited 7 long years to marry Rachel. At the end of those 7 years, he finally achieved the desire of his heart and married the woman of his dreams. Or so he thought. The day after the wedding, as morning broke and Jacob turned to gaze upon his new bride, he discovered it wasn't Rachel he had married. It was her sister, Leah.
In my life, this story has always given me a filter for my expectations. When I put all the weight of my desire on some singular thing, and then finally attain it, it never lives up to the hype. I strive after Rachel, only to wake up and realize it's Leah.
(No offense to Leah!)
That's why, as much as I have loved coming home, I keep reminding myself that what my heart truly desires, deep down on a soul level, is not North Carolina. What my soul really craves is my heavenly home. No home on earth will ever satisfy like the home for which I was created. Everything else on earth, the joy, the rootedness, the peace of being in my earthly home, it's all just a foretaste of the perfection that awaits.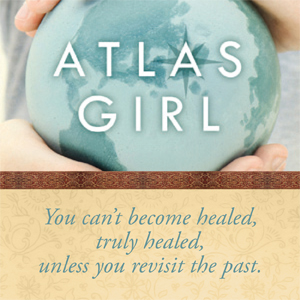 For the last month I've been giving away free books, and this week I am giving away the last. The timing is so neat, because the topic of this book couldn't be more fitting. The book is called Atlas Girl, and it's written by Emily T. Wierenga. This memoir is about journeying and home, but it's also about the winding path of faith. If faith has ever been a struggle for you, if faith does not come easily, then you will want to read Emily's story.
I'll be giving away one copy of Atlas Girl, and if you would like to enter for a chance to win, please share a comment about what home has meant to you!
As Ike and I transition into this next exciting chapter I won't be writing as much, but I'll be sure to keep you posted. And speaking of journeys, can I just say that this entire experience has been a lesson in how little faith Ike and I have! God has provided again and again and AGAIN. And yet we have been so quick to doubt. Once again, everything is now coming together, and my steady refrain has been "We of little faith!" Seriously, y'all. When will we learn?
God is good. Can't wait to share more about that in the coming weeks. Love y'all!
Sharon
Sharon
Sharon