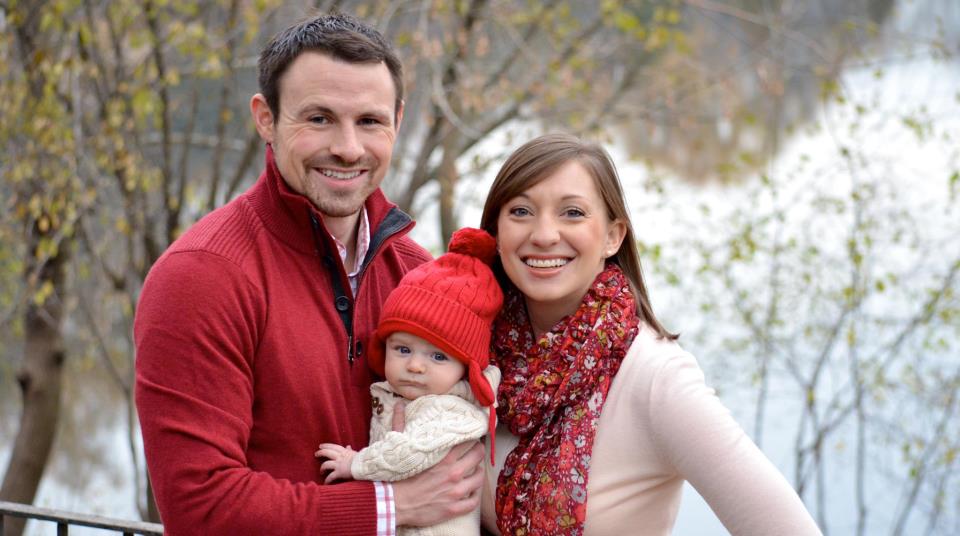 Around this time last year I told my parents I was pregnant. Later that day my mom went Christmas shopping and came home with several baby Christmas books. I remember feeling like the next Christmas, my first Christmas with a baby, was forever away.
Well a few weeks ago I pulled out those books from storage and read them to Isaac for the first time. It was such a strange feeling, knowing that when the books had first been purchased he was about the size of a lentil. A year later he is nearly 14 pounds, snuggly, squirmy, and he has the most amazing belly laugh. It's remarkable what can happen in a year.
One of the first books I read to Isaac was A Charlie Brown Christmas. I love the television version so I enjoyed reading along as Charlie Brown sought Lucy for help, became the director of the Christmas pageant, and purchased a puny little Christmas tree that nobody liked. But when I came to Linus' speech, the one in which he explains "what Christmas is all about," a funny thing happened.
I began to sob.
I was the only one home with Isaac at the time so I'm sure it was a funny picture. I sat on the floor next to our Christmas tree with Isaac in my lap as tears streamed down my face and I wobbled my way through the words.
You see in that moment it hit me: This is Isaac's very first time hearing about the story of Jesus' birth. In our culture it's nearly impossible to find someone who knows nothing about the story of Christ, so the opportunity to share the good news with a person who has never heard it before, not even some of it, is a rare opportunity. And it overwhelmed me.
(And, let's be honest, there were probably some hormones in play as well)
When I was a child Christmas was a magical and innocent season in my life, as I'm sure it is for many children. But the older I became, the more that magic and joy faded as stress and overwrought schedules crowded in. In adulthood, Christmas can even acquire a bittersweet flavor as the memory of former Christmas delights lies in stark contrast with the complicated and painful lives we experience now. As much as we want to reclaim the innocence of our earlier years, we live in a world that's not what it should be, and Christmas has a funny way of making that truth even more clear.
There is a lot about this world that scares me for my son. I don't want him to get hurt, and I want to shield him from the darkness. When I think about the difficulties he will face in life, my heart feels heavy. But sitting there on the floor with him and reading the Christmas story for the first time, I was comforted by these wonderful words from Luke 2: 10-11:
"Fear not, for behold, I bring you good news of great joy that will be for all the people. For unto you is born this day in the city of David a Savior, who is Christ the Lord."
Fear not. Good news. For ALL people.
Between events like the Newtown shootings and our own individual burdens, Christmas can be a solemn time of yearning. Advent is certainly marked by a somber mood. Yet against the backdrops of life's pain, the story of Christ's birth gives us a reason to rejoice. Emmanuel has come near so that we will not face our struggles alone, nor will we be overcome by them.
So this Christmas I hope you will celebrate. I hope you will rejoice over the good thing that God has done for us.  I hope that God impresses His goodness onto your spirit and lifts you up. As much pomp and circumstance surrounds the Christmas holiday it's easy for the true message to get lost, but there is a very good reason to celebrate. And I hope you will.
Wishing you a very merry Christmas, from my family to yours!