False idols make for pretty great gods. At least for a little while, anyway.
How many times have I looked at my life and felt sure I was depending on God alone. Financial security, body image, ministry success, fear of man–I had worked through each one of these false saviors.
I thought.
But that's the funny thing about false idols. We don't always worship them consciously. Instead, they become so enmeshed in our lives that we can't even recognize our dependence. Financial security doesn't seem like an idol when you have plenty of money; it's only when financial security is taken away that you realize how profoundly you depend on it.
Then there's body image. I thought I had a perfectly healthy, biblical view of my body. Then I had a baby. Suddenly I realized just how thoroughly my confidence and worth were wrapped up in my appearance.
There was a time when I thought I had more or less dealt with these idols. I was at peace. I was secure. I assumed I was in a good spiritual place.
But that peace was an illusion. The soil I was standing on was not spiritual rock. It was sand. And though it had given me a firm foundation for a time, it slowly began to erode. As it did, it revealed the true state of my soul.
Over the last few months, God has been working on me. He's been undoing a lot, and dethroning some long established idols. It's been painful. It's also been humbling. And through it all, God has shown me the restlessness of my soul,  a soul frantically searching for meaning, worth and purpose, but finding it in all the wrong places.
In Genesis 29, Jacob's wife Leah goes through this exact same process. Leah is a restless woman. She desperately desires her husband's affection, so she produces child after child trying to earn his love. The name of her first child means "seen," the second means "heard," and the third means "attached. " This is a woman who longs to feel seen, heard, and connected, all the while overlooking the very one who gave her her husband and her sons–the One who sees, the One who hears, the One who is closer than any other.
But in verse 35, Leah finally gets it. She realizes the bankruptcy of her idols, and turns her face to God. She gives birth to Levi, whose name means, "This time I will praise the Lord." After that, we read these powerful words,
"Then she stopped having children."
Leah was done. She was finished with the fruitless searching. No longer would she drink from wells that would leave her thirsting for more. From then on she would drink from the source of living water. She would have peace. She would be free.
She would be free to worship God.
Whenever my spirit feels restless, I'm tempted to make the same mistake as Leah by running to all the wrong things–the pursuit of comfort, an organized home, a perfect appearing life, a successful ministry, a great marriage. I try to find rest and joy in each of these things, and they might even give me joy for awhile. But they will not end my restlessness once and for all.
That restlessness I feel, it can only be satisfied in God. None of us will have the peace and joy we crave until we stop searching, stop placing our trust in false idols, and give our all to Him.
That is what God has been teaching me, that restlessness isn't always a "grass is greener" mentality. Sometimes it's a divine stirring. God is stirring my soul to quit wasting my time on idols that falter, and to throw my whole self into following him. He is calling me to obedience, but He is also calling me to dream.
So that's where I am. It's still happening. I'm still in process. But that's where I am.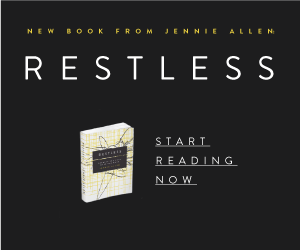 In God's good timing, I got an e-mail about a week ago from my friend, Jennie Allen. Today her book Restless is being released, and the timing couldn't be better. She writes, "Your restlessness may very well be a divine invitation to purpose, calling and life." Oh if that isn't right where I am! Jennie describes a restlessness that finds its expression in dreams, in revival, in revolution, all for the glory of God.
She is, in short, challenging us women to step up.
If you sense that restlessness in your own spirit–whether it has driven you to depend on lesser idols, or it has plagued you with the gnawing sense that you aren't using your gifts for the Kingdom of God–please please check out this book! God is stirring us to something beyond domesticated discipleship, and we will not be satisfied until we respond.
Along those lines, I am so excited to do a BOOK GIVEAWAY for you guys! If you leave a comment sharing about your own sense of restlessness–why you're restless, or what you think God might be telling you through it–I'll enter your name into a drawing for a copy of Restless.
I hope you'll check out Restless, but more importantly, I hope you'll take seriously the restlessness within you. What might God have in store that is beyond your wildest imagination? What divine stirring might lie just behind your restless soul?
Sharon
Sharon
Sharon