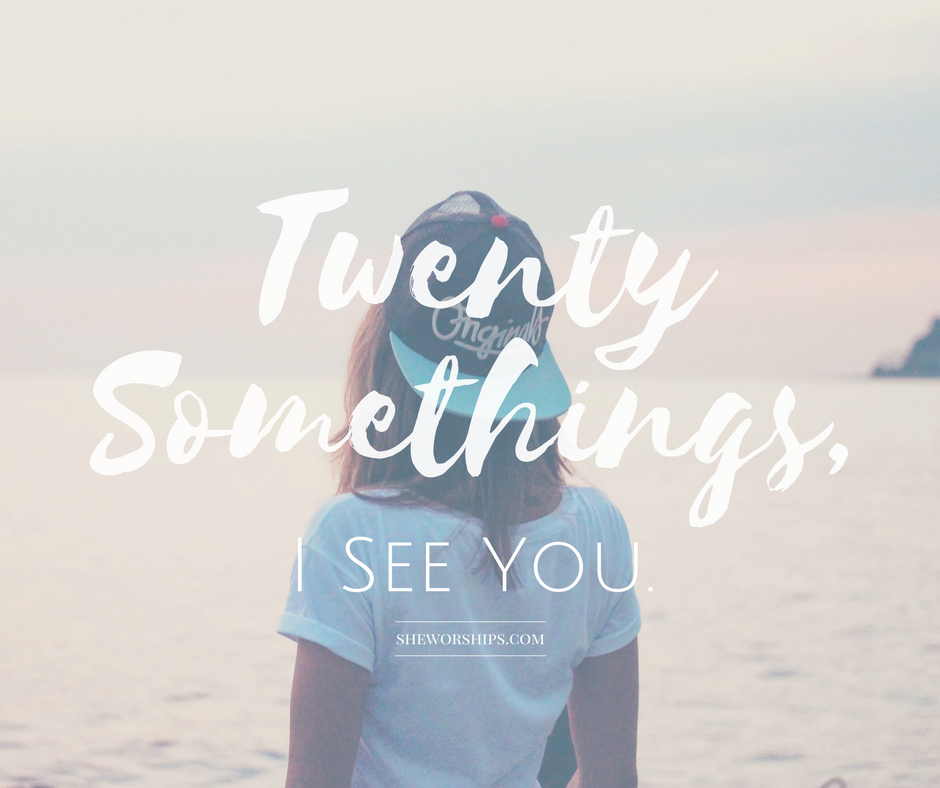 Due to a much bigger response than I expected, I am not currently accepting new contributions at this time. I hope to find a way to accommodate the large number of responses I received, so please stay tuned!!
Last weekend I had the privilege of hearing from Beth Moore, while she poured into hundreds of women in their 20's and 30's who have a call to speaking and writing. The entire conference was amazing, but there was one moment I will never forget.
At the end of the day, Beth told a story about attending her granddaughter's dance recital. She noticed that every child on stage scanned the audience, searching for her mother's eyes, and hoping for a look of pride. When Beth turned her gaze to the audience, there it was, every single mother, gazing at her child with a face full of love.
And I thought I knew where Beth was going with this story.
I thought Beth was setting up an analogy about faith. "God is looking at your service, and He is so proud of you!" That's what I thought she would say. And it's a great reminder.
But that's not what she said. Instead, Beth motioned to the women standing beside her–Christine Caine, Priscilla Shirer, Jennie Allen–and she said:
"As spiritual mothers, we want you to know, we SEE you."
When she spoke those words, my entire row collectively choked back a sob. We weren't expecting it, but we also didn't realize how much we needed it. Yes, we are doing ministry for the approval of God alone, but encouragement is water for the soul, especially when it comes from some of the women who shaped you most.
That's why I will never forget that moment, and it got me to thinking. For so long, I have looked up to older women as role models, but somewhere between my twenties and thirties, women started looking up to me. This has taken me by surprise, because my influence is still modest, but as someone who bangs the drum for women's gifts, I cannot ignore the weight of this responsibility. I know some of you look up to me and value my ministry, and I want you to know: I see you. I care about you and your gifts, and I am thrilled for God's plans for you.
I also want to serve Him, and you, in those plans.
So, I hatched an idea that I'm pretty excited about. I have decided that once a month, I am going to feature a guest post by a twenty-something woman. Now, I know my blog isn't the biggest opportunity in the world, but I hope I can help some of you take one step forward, and feel affirmed. I also hope I can help you be a better writer and minister of the gospel. To that end, here are the guidelines:
Limit to 700 words
It can be your story, a reflection on culture, a lesson from Scripture, or even a poem
It must be biblically and theologically sound (I can help you with this if it sounds scary–we all need help with this!)
You must be open to editing. A writer's best friend is a good editor, and while I make no claims to being a great editor, I want to expose you to the process, especially if you have never had an editor before.
Write as an act of love for God, and your reader.
If you are interested in writing for my blog,  you can e-mail your ideas to me at sharon(at)sheworships.com with the subject line "Hear the Esther Generation". And please don't feel rushed. Since this is a monthly series, take all the time you need and the opportunity will still be here!
As for the name of this series, I've agonized over it and prayed over it, and I landed on this:
Hear the Esther Generation
Some of you may know that the term "Esther Generation" was coined by Ann Voskamp, and it captures my desire for this series, as well as my ministry as a whole. Esther was a woman of courage and self-sacrifice, who lived for a story much larger than her own. She leveraged her influence for those "outside the gate," and she was ready to serve at "such a time as this." She was prepared to lay down her life as an act of love for others, and we NEED women like that right now. We need women who are taking steps of faith and boldness in truth and love. We need women with deep, Christ-centered conviction and an unwavering commitment to God's Word. Our world needs Esthers, and I want to be a part of raising these women up.
That's my heart, and my purpose. I hope this series encourages you to stand up and walk in your call. I hope it's the kick in the pants you need to get writing. I hope it communicates that it's not enough to have gifts if you don't steward them for the glory of God. And I hope it reminds you that you have cheerleaders, and you have help.
My younger sisters, I am not that much older than you, but I have been writing long enough to know that it's hard, and the lies are loud, and the temptations to write for the wrong reasons are strong. We need each other to follow God well, so as much as I am able, I want to help you steward your calling for the Kingdom of God.
Esther Generation, I love you. Let's link arms, and run this race together.
Sharon
Sharon
Sharon